Article content
Addressing a local need that families, police, politicians and agencies have said is a high priority, Hotel-Dieu Grace Healthcare on Tuesday announced it has submitted to the province its plan for expanding the number of mental health beds.
Article content
The design plan includes a 68-bed acute mental health expansion while providing more urgent, emergent and crisis services — all under one roof.
"This is an exciting day," said Hotel-Dieu president and CEO Bill Marra. Submitting the plan to the province "means that Windsor-Essex is one step closer to a consolidated single point of entry for those experiencing mental health and addictions issues."
The new system and expansion "will provide a continuum of care for these patients and clients. No longer will they need to tell their story multiple times," said Marra.
The plan unveiled this week, however, doesn't address the immediate crisis in local streets, with police officers often the first responders having to deal with a mental health or addiction emergency, and hospital ERs their go-to destination to drop off those in crisis.
Article content
But the proposal — 18 months in the making, including consultations with such stakeholders as doctors, police and crisis services — will lead to more successful outcomes and make a difference in the community once approved and implemented, according to proponents.
"This project aims to change the lives of those in our community in mental health and addictions crisis," said Hotel-Dieu chief of staff Dr. Andrea Steen, who is also the hospital's vice-president of medical affairs, mental health and addictions.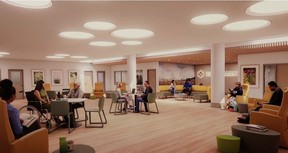 The plan will spend the next three to five months under review by the Ontario Ministry of Health capital branch, but Marra said there's been close communication so far so he doesn't expect any surprises. Realistically, he added, it could be another 36 to 48 months before there's a ground-breaking, with a two-year construction phase to follow.
Article content
"Construction will be a bit complicated," Marra told the Star in explaining the length of time to get the project completed. "We felt very strongly that the community be reminded of this transformational project," he told a large gathering of hospital staff and stakeholders at Tuesday's announcement.
Currently, a downtown Crisis and Mental Wellness Centre at 744 Ouellette Ave. operates 12 hours a day and is open to anyone. Emergency cases are admitted to Windsor Regional Hospital's Ouellette campus for short-term stays, with those requiring longer term care transferred to Hotel-Dieu Grace Healthcare's Prince Road campus.
Under the new proposal, which has yet to be fully costed, Hotel-Dieu's west Windsor campus will accommodate all such patients and clients. Dr. Steen said the design will "bring a sense of safety and calm" for those being admitted and treated.
Article content
"We are confident there will be a systemwide improvement," she said.
While linked to plans for the new regional acute care hospital on County Road 42, Marra said the Hotel-Dieu Grace Healthcare project is being planned and funded independently with its own timeline for completion.
Hotel-Dieu Grace Healthcare serves as the regional provider for tertiary mental health care, and it offers a range of community-based mental health programs, inclusive of the downtown Windsor Crisis and Mental Wellness centre which houses the urgent assessment centre for mental health and addiction and is the lead agency for child and youth mental health for the region.
No new buildings will be needed as part of the plan unveiled Tuesday, but it includes relocation and renovation of Hotel-Dieu's in-patient rehabilitation centre; and diagnostic imaging — adding ultrasound and CT services — gets expanded space.
In Thursday's Windsor Star: a proposed plan for immediate action to tackle the current mental health and addiction crisis on Windsor's streets.